Mission
To go out into all the communities and show them the love of Christ by attending to their needs as Christ has shown us through His method.
Goal
Total Church involvement in the NWA community. A combining of efforts and a linked mission in unity for the better good of our surrounding communities and for a more hastily arrival of our loving Savior.
Battle Plan
Each church that agrees to be a part of Operation S.H.A.R.E must have at least 10 members who would be willing to set one day aside per week to go out in the communities and share Jesus' love.
Sabbath Survey Teams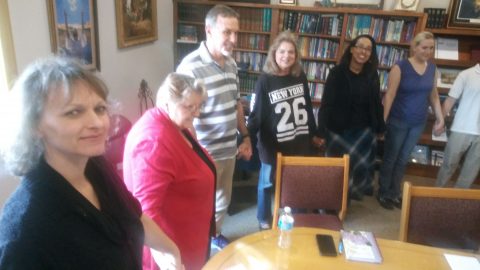 Sabbath afternoon, February 18, a group of 18 excited and enthusiastic volunteers gathered in our church library to discuss the Survey plan of Operation S.H.A.R.E. and pick teams, then map out our routes. Josh Cook organized the group with great anticipation. Four of the 18 stayed behind to pray for those who went out.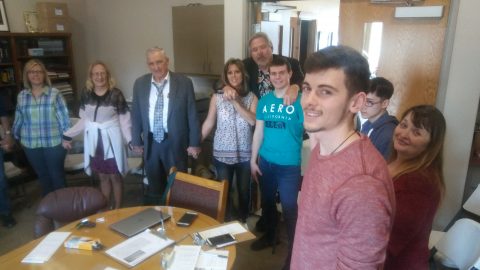 Our plan -  to stay out for an hour and get as many surveys as possible, thinking that we may come back with only a couple surveys each. After praying together, seven teams of two converged on several different streets in the nearby residential area.
Much to Josh's surprise, we all came back after more than an hour and a half with lots of stories, experiences, and more enthusiasm, along with 24 surveys, which included names and addresses of those who are in need of and want help with a project or two for us to do. We were thrilled with how the Lord blessed.
Many accepted the invitation for us to have prayer with them and several said they would like to have Bible Studies. Some are in need of home repair, and others with child care. Many are interested in some upcoming classes we will offer. So we made an impact just from the surveys.
Sunday Outreach
Last Sunday we put Operation S.H.A.R.E. into practice. Six willing excited volunteers met on a very cold and cloudy day at one of the houses which needed work and climbed up two ladders to clean out the gutters on a lady's home and put in gutter guards, which we provided. She was so grateful, and speechless that we would do that without expecting anything in return.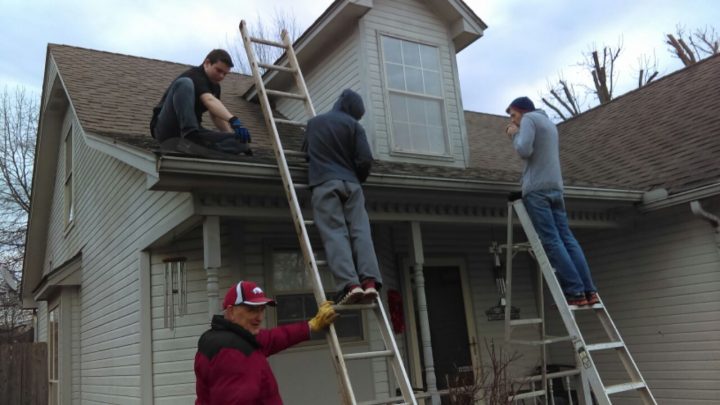 Daniel, Timothy and Josh cleaned the gutters, trying to keep warm hands, while Neil supervised.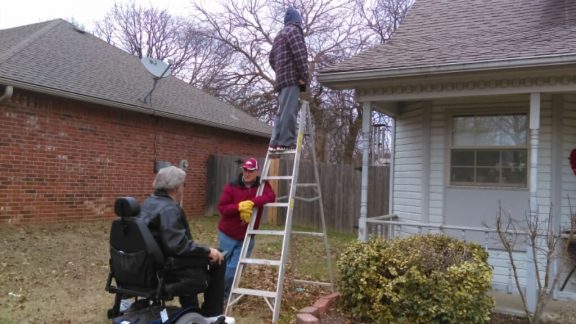 Jeff is telling Neil how to hold down the   ladder while Timmy chills.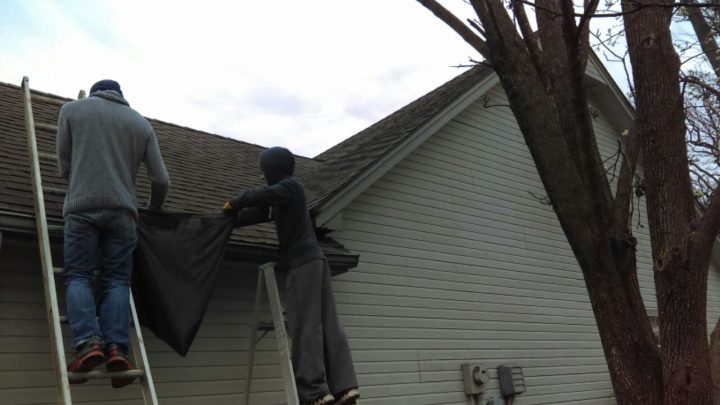 Josh and Timmy gathers the leaves and dirt into plastic bags so Timmy could take them home and add to his garden. Smart thinking, Tim!
Linda also braved the cloudy chilly day as she supervised the gutter guards going up.
Christ's Method Alone is the Motto of Operation S.H.A.R.E. and our aim is to reach out to others, and share Christ's love with them in hopes that they will desire more info.
If you would like to be a part of Operation S.H.A.R.E., contact Josh at 479 866-9391