Our Community Garden Ministry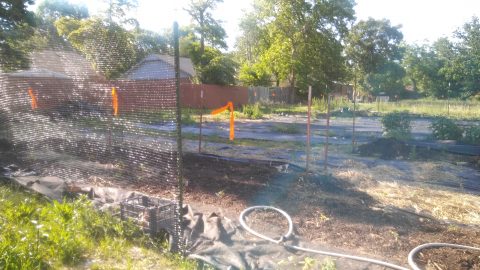 Our  very large organic garden was started from scratch in the summer of 2017 with a few faithful volunteers who worked together to dig up garden space where grass and weeds grew, lay down black plastic to kill the weeds, then begin planting and maintaining a garden on church property. Here we grew food for the very active Monday weekly Soup Kitchen, and for those who may be in need of good food.  This is a beginning project, so we welcome any help and support with this community effort.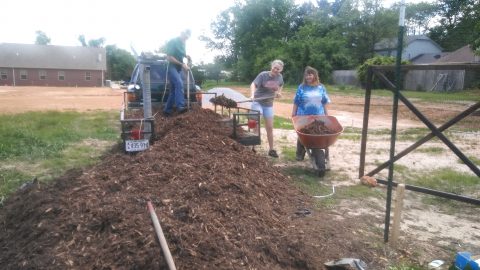 The foundation of the garden is laid out in the Back to Eden gardening method using wood chips from the local road department for mulch, which deter the weeds, hold in the moisture and put nutrients back into the soil, making working the garden so much easier.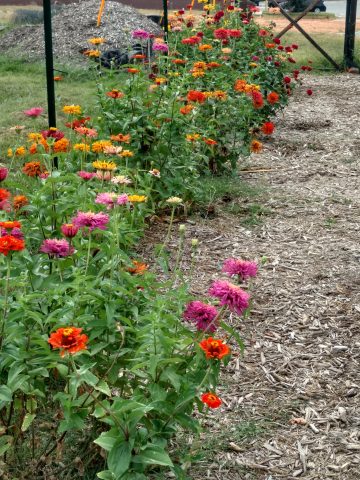 We planted a wide variety of colorful flowers interspersed with the vegetables and added fruit trees to give fresh fruit in summer. We are looking forward to our first harvest of fruit this year.
The fun part comes in the camaraderie and eating the yummy food grown there.  The idea is to supplement the fresh food used at the Soup Kitchen. 
Many hands volunteered to help with the planting, weeding and harvesting. We also had some from Men's Ministries come and pull a fence line surrounding the garden to protect it from critters.  The used fencing was donated by one of our church members.
So for the Spring and Summer of 2018, we welcome any and all volunteers to make this project even more successful for it's second year.